Although the independent music scene in Seoul is relatively new, it seems to be proliferating into new creative forms that we have yet to imagine. Like what my architect alter-ego discusses in his book Convergent Flux, similarly in music there is no organic progression that parallels the North American development of blues to jazz to rock to electronic. Following Korea's unprecedented economic ascendancy, access to music was all of a sudden globalized: Instead of nostalgia for times past therefore, Korean artists have the freedom to work as radical curators, from deep tradition to beyond contemporary.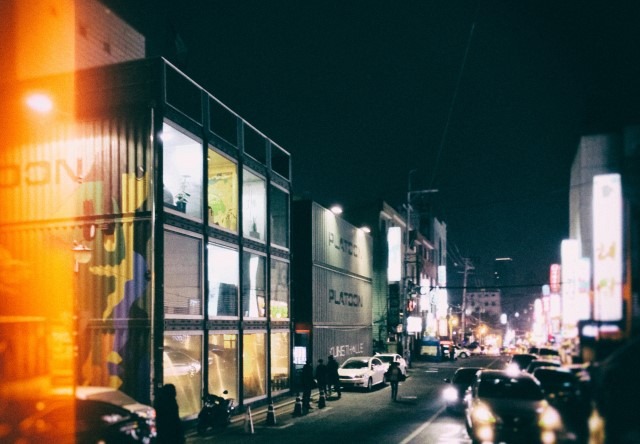 The shipping container art house: Platoon Kunsthalle Seoul
Admittedly this is a slanted review as I was seeing Seoul through ghosting (stalking?) the prolific Dj Spooky who was artist in residence at the Seoul Institute of the Arts. It started off on New Years' night when he brought the house down – (to be accurate, he brought the shipping containers down). The show was at Platoon Kunstalle, a hybrid performance venue, art space, bar, lab, and cultural hacker agency led by Berliner Tom Bueschemann. Occupying a precisely stacked complex of shipping containers, its activities brazenly cross the line between commerce and culture: that pseudo religious boundary invented by the puritans of the art world. For good reason, much of the compelling music and art scene in Gang-nam revolves around here.

| | |
| --- | --- |
| | |
| | Dj's Vigorous Vlack and Tschaan of Vakdong Records with media installation by IVAAIU at Platoon. |
| | |
For instance, Vakdong Records staged a 3-night multimedia performance at Platoon consisting of interactive light, live painting, and of course Dj sets that blended electronic sounds with real instruments. They teamed with their sibling city planning organization IVAAUI City Planning (many of the members are also Vakdong-ites) outlining the potential of the larger project of music as an urban and social phenomenon. This ambitious and creative crew is definitely making waves and are ones to watch in the future.
| | |
| --- | --- |
| | |
| A yet unnamed band channels ambient new wave at Platoon | |
| | |
The opening group for Vakdong was a band so new that they didn't even have a name. In any other culture, a newbie band would also sound… well inexperienced. These cats however could play the sh*t out of their instruments. Reminding me a bit of my work from the late '80s they exceeded my efforts on every level, unabashedly channeling new wave with the sophistication of groups such as dif juz.
| | |
| --- | --- |
| | |
| | |
| | Late night discussions at Banjul Schale with musicians and designers. |
| | |
A couple late nights were spent at the iconic Banjul Schale in Jong-ro. Gaining notoriety in the 60's for hosting free-jazz performers hailing from Seoul, New York, and beyond, the space is a hidden cultural gem in the bustling Jong-ro district. Dj Spooky was able to experiment in a salon-type atmosphere testing both new compositions as well as a poignant re-interpretation of Arvo Pärt's work. Joined by the violin prodigy Patrick Mo, singer Miji Lee, as well as Banjul Schale's owner and resident harpist, the songs took on an improvisational experimental edge. The rare beauty is the space is conducive to after hours discussions which included Paul Miller aka Dj Spooky, architects Minsuk Cho, SsD, media artist Yena Ku, among others.
| | |
| --- | --- |
| | |
| Seoul Counterpoint dialog with Dj Spooky | |
| | |
Back in New York, a culminating event that captured the virtual and real proximity with Seoul was Dj Spooky's Seoul Counterpoint performances at LaMama Experimental Theater which condensed his research on Korean culture and geo-politics into an intense multi-media performance staged in real time between Seoul and New York. My alter-ego had the privilege of joining him in public dialog to discuss the rapid economic and cultural changes in Korea and the cultural catalysts that I am excited to be witness to…